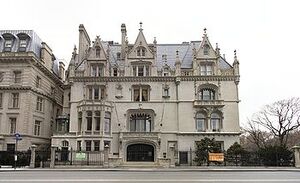 &nbsp
Valmont House is the fictional residence of the Valmont and Merteuil families in the 1999 hit teen drama Cruel Intentions, the building is actually the Harry F. Sinclair House and is home to the Ukrainian Institute of America.
The Harry F. Sinclair House is located on the corner of East 79th St and 5th Ave on the Upper East Side of Manhattan, New York, NY
About the Building
Edit
The Harry F. Sinclair House at 2 East 79th Street at Fifth Avenue, Manhattan, New York City was designed by Charles Pierrepont Henry (C.P.H.) Gilbert for the New York banker and stockbroker Isaac D. Fletcher in 1897 and completed in 1898.[5] When Fletcher died in 1917, he left the house and his art collection to the Metropolitan Museum of Art, which sold the house to create the Fletcher Fund for purchases of prints and drawings. The purchaser in 1918 was the self-made oil millionaire Harry F. Sinclair, who lived in the house until 1930. Sinclair is best known for founding Sinclair Oil in 1916 and was made notorious by his involvement in the Teapot Dome scandal in in 1922. After Sinclair sold it in 1930 it became known as the Augustus and Anne van Horne Stuyvesant House; the unmarried brother and sister, descendents of Peter Stuyvesant, had moved from their house at 3 East 57th Street, when that stretch of Fifth Avenue had become unalterably commercial.[6] Today, it is owned by the Ukrainian Institute of America.
In 1996 architectural historian Christopher Gray quoted an anonymous critic writing for the Real Estate Record & Guide in 1899, who in praising the design noted that much of the ornament was ecclesiastical in origin rather than domestic. The writer closed with the observation that the Fletcher mansion had "too much the air of an archeological reproduction to be accepted as an appropriate New York City house of 1898."[6]
It was declared a National Historic Landmark in 1978,[4],[7],[8] and remained "refreshingly unrestored", according to Christopher Gray, until 1997, when modest renovations were undertaken.